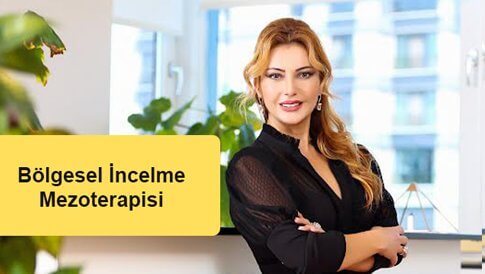 Mesotherapy is one of the stop reduction methods for body shaping. This method offers ease of application and does not require surgical intervention. Mesotherapy sessions are repeated every few weeks to reduce the appearance of cellulite as well as spot reduction.
What is Spot Reduction Mesotherapy?
Spot reduction mesotherapy was developed by Dr. Michel Pistor in 1952. Mesotherapy was a procedure used in pain treatment and workout injuries when it first appeared. Today, it is a treatment method for cosmetic problems such as aging, cellulite, and hair loss. Mesotherapy triggers collagen and elastin production, which are the basic building blocks under the skin.
Mesotherapy is performed by injecting a mixture prepared specifically for the patient's problems to the targeted area. This mixture contains a variety of vitamins, minerals, supplements, and medications. In spot reduction mesotherapy, a mixture of ingredients that are effective for weight loss is injected. This mixture helps spot reduction, skin tightening, and cellulite removal.
How is Spot Reduction Mesotherapy Performed?
Spot reduction mesotherapy is performed in a similar way to standard mesotherapy procedures. After your doctor conducts a physical examination and maybe runs some tests, he will prepare the most appropriate mesotherapy cocktail for your problems. Later, they will use a local anesthetic cream to avoid any pain during the procedure. However, the mesotherapy procedure does not cause much pain, as it is applied under the skin with very fine needles. The procedure can also be performed without local anesthesia with little to no discomfort. It is done in multiple injections, not a single injection. There will be a distance of 1 to 4 mm between injections. Your doctor will only use a small amount of cocktail during each injection.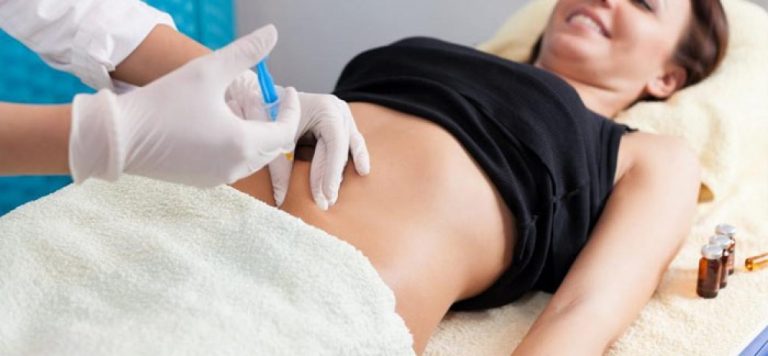 Regardless of the purpose of mesotherapy, you need it several sessions to acquire full effects. After each session, you will get better. The cocktail prepared for spot reduction mesotherapy also contains ingredients that will regulate blood circulation and tighten the skin. These ingredients both help weight loss, tighten the skin, and reduce the appearance of cellulite. However, mesotherapy will not cause extreme weight loss on its own. Its effects must be supported by diet and exercise.
Who Should Not Get Spot Reduction Mesotherapy?
Mesotherapy is not a surgical procedure so it usually does not cause serious side effects. However, people suffering from certain health problems avoid this procedure. Pregnant women, people with heart disease, diabetes patients, and people who have kidney problems are the ones who should not get this treatment. You should consult your doctor to find out whether you have a condition to avoid mesotherapy.
Benefits and Advantages of Spot Reduction Mesotherapy
Mesotherapy has many advantages, including a painless and non-surgical procedure. This therapy, which is completed in half an hour to an hour, is both quick and does not require you to stay in the hospital afterward. You can return to your daily life or work. Mesotherapy for targeted weight loss, which provides skin renewal, does not cause pain. It aims to break down fat cells by increasing blood circulation and accelerating metabolism. Thus, it can cause weight loss around the application.
Spot Reduction Mesotherapy Aftercare
There is no recovery period after spot reduction mesotherapy, and people can continue their routines and habits following the treatment. However, mesotherapy aftercare precautions are important to support and maintain its effects. For example, if you do not follow a healthy nutrition plan during this treatment, you may gain weight rather than losing weight. So you should eat a balanced diet and avoid fatty and refined foods as much as possible. Besides, regular exercise can help weight control and speed up weight loss. If you follow these precautions, maximum benefits can be obtained from this treatment.